Ready to enhance your portrait editing skills quickly and easily? Discover how you can become a master of Lightroom with AI-powered features. Learn essential tips and tricks for optimizing your photos with just a few clicks, including the ability to smooth and soften skin in portraits. Get ready to elevate your editing game in no time!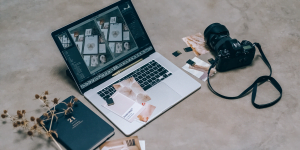 Streamline Workflow: Unlock Lightroom's intuitive interface and AI tools to speed up your portrait editing workflow. From organizing images to applying quick adjustments, optimize your efficiency and save valuable time.
Harness AI-Powered Enhancements: Leverage Lightroom's AI technology to transform your portraits effortlessly. Discover how to use AI Enhance to improve exposure, color, and tone, giving your photos a polished and professional look.
Smooth and Soften Skin with Precision: Perfect skin tones with Lightroom's AI-powered Skin Smoothing tool. Effortlessly reduce blemishes and imperfections while preserving a natural appearance. Learn to achieve flawless results without sacrificing authenticity.
Personalized Tips and Tricks: Uncover lesser-known Lightroom features for advanced editing techniques. From custom presets to retouching methods, receive personalized tips to enhance your skills and make your portraits stand out.
Batch Editing for Efficiency: Save time by applying consistent adjustments across multiple images. Discover how to utilize Lightroom's batch editing capabilities, maintaining a cohesive look throughout your portfolio.
Stay tuned for more photography tips and editing techniques at acenoguera.com & Subscribe to my Channel, your go-to resource for all things photography.
Happy editing!